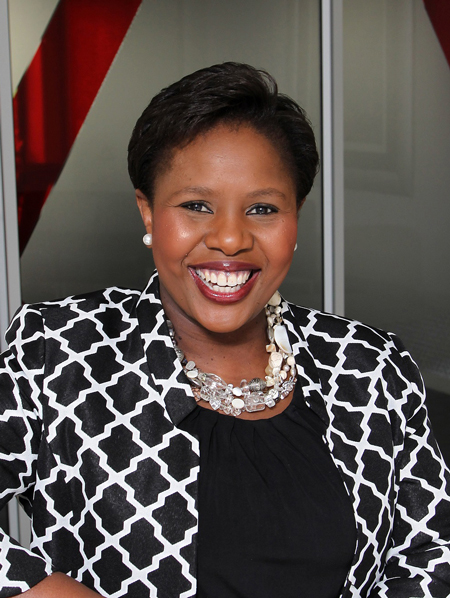 Ntombi Mhangwani

Accenture

Africa Director Integrated Marketing & Communications and Lead Women's Forum
Gender mainstreaming in the workplace has been a longstanding discussion across the globe for decades. Although progress has been made in recent years to implement policies that favour diversity and gender equality, many of the gains are now at risk of being rolled back due to the widespread COVID-19 pandemic and resultant grim economic outlook.
The compounded economic impacts are felt especially by women and girls since they are generally earning less, saving less, holding insecure jobs or living close to poverty. As the pandemic deepens economic and social stress, the borders between office and home have faded away, with many women now struggling to juggle the manifold roles of being an employee, a spouse and parent, while some are at the same time being locked down at home with their abusers. This has created many stages of anxiety for women.
Against this backdrop, Accenture has taken the initiative to not only advocate against gender inequality, but also celebrate companies that embrace the representation of women in the workplace. At Accenture, we celebrate diversity and gender mainstreaming as a business principle, and the inclusion of women at all levels of authority in the workplace. As such, we have partnered with Business Engage for their 8th Annual Gender Mainstreaming Awards (GMAs). The GMAs seek to encourage the private sector to buy-in to achieving more meaningful representation of women in the mainstream of business.
Gender mainstreaming has been on the agenda worldwide for several years, yet we understand that many companies are just starting on their journey. The awards therefore act as a springboard to further their achievements. The GMAs target the private sector with some categories involving nominees from government. Companies were invited to participate for the awards according to various categories to fit in with the perceived level of diversity within the company.  Individuals were nominated for the Positive Role Model and/or Inclusive Leader categories. The entire process has been done online and the awards ceremony this year will also be held online. We are excited for this change of format in the award process and ceremony because it is evidence that we are supporting an initiative that fully embraces operating in the new as part of the 4IR.
We recognise the business value that gender mainstreaming brings, and Accenture is committed to accelerating equality in the workplace as responsible business leaders and to drive our innovation agenda. Several years ago, we set two clear goals: to achieve a gender-balanced workforce by 2025, and to increase the diversity of our leadership by growing the percentage of women managing directors to at least 25 percent by the end of 2020. Today, our workforce is 44 percent women and the percentage of women managing directors is 24 percent. Treating our gender goals like any other business priority, we hold leaders accountable, collect data, measure progress and publish workforce demographics across key geographies.
The challenge to achieve gender equality in South Africa starts at fundamental levels with less access to education for women and repressive cultural norms. It also extends to the workplace where unequal pay and privileges, as well as continued under-representation in senior positions limit the progress of women and the achievement of gender equity. Our partners; Business Engage developed a comprehensive document that provides best practices for Gender Mainstreaming in the South African private sector. It is the result of years of research into academic papers, commercial reports, and articles combined with local knowledge. We encourage the private sector to consider these best practices and to implement the chosen best practices in their Gender Mainstreaming endeavours. At Accenture we have taken some pointers from this guide, adapting and experimenting with it to suit our own environment and so far we are happy with the results.
We believe that to build a sustainable economy, the private sector must work together with government to maximise the potential of the country's people and enterprises. Over our 50 years in business, we have realised that building a sustainable economy is critical to South Africa's growth. Our vision is to add value to the South African vision by improving the way the nation works and how people live, and we see transformation as a key component to make this prosperous vision a reality.
Gender Mainstreaming Awards 2020
Business Engage has developed the Gender Mainstreaming Awards to encourage private sector to buy-in to achieving more meaningful representation of women in the mainstream of business. There are various categories to fit in with the level of diversity that companies are currently at. Companies and individuals are encouraged to use the awards as a springboard to further achievements. There is no cost to making a submission. All submissions are done online at www.genderawards.co.za and may be for South Africa programmes and/or international programmes.